GOOD NEWS to all our LOYAL CUSTOMERS!
We are not moving and will continue to do business as usual!  Thanks to our loyal customers for all your positive comments and support.  We appreciate that you shop locally and support our local economy!  That's the only way that small business in Calgary will thrive. Our hours will remain 9:30-4:00 weekdays and 10-3 Saturday, but if you need to come outside these hours, please call to make arrangements. Thanks Calgary!
Thanks also to our (Head Lease) Landlord who has been understanding with our lease arrangements!  You've made this possible for us!
Our huge art supplies blowout sale will continue to clear out some products to make room for the new!  Share your ideas with us.  We're here for you!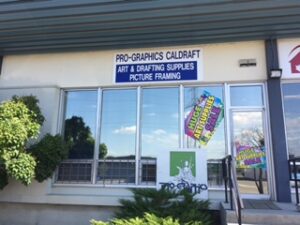 OPEN:   Mon-Fri 9:30-4:00, Sat 10:00-3:00
4018 4 Street SE
"Creative Products for Creative Minds"
Whether you work as a professional artist with years of experience or you have just started dabbling, Pro-Graphics has the art and drafting supplies you need. From pens and markers to airbrushing equipment and everything in between, we offer every type of drafting and art supply product available.
Brands Trusted by Professionals
We stock a wide selection of high-quality art supplies perfect for any artist—from the hobbyist to the professional. Our inventory includes products from the brands most trusted by the industry, including:
Bainbridge
Colerase
Copic
Createx
Iwata
Mayline
Pantone
Prismacolor
Safco
Scalemaster
Staedtler Mars
Xyron
In addition to our art supplies, we provide framing services at low costs to help you proudly display your work. We have professional framers on staff who will consult with you to ensure that your art has only the most well-crafted designs framing it.
Creativity Only a Click Away
Save yourself a trip away from your art and order the supplies you need on our online store. We ship products right to your doorstep when you order online or by phone. If you don't see the item you're looking for, give us a call. Our website currently only features a small fraction of our products.
Start shopping now, or stop by our shop at 4018 4 Street SE in Calgary. We're open Mondays through Fridays from 9:30 a.m. to 4:00 p.m. and on Saturdays from 10:00 a.m. to 3:00 p.m. If you have any questions about the availability of a certain item or wish to order by phone, call us at (403) 253-0992.