Made of finest quality stainless steel with non-skid cork backing that won't slip on glass or polished surfaces. Flexible enough to permit measuring curved surfaces. Raised edges eliminate ink blots and smearing. Graduated in 16ths, 32nds, and metric.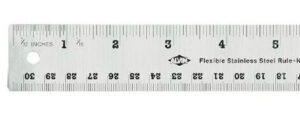 ALR590-6      6 inch   $3.15
ALR590-12    12 inch $4.70
ALR590-15    15 inch $6.25
ALR590-18    18 inch $6.90
ALR590-24    24 inch $8.25
ALR590-36    36 inch $15.00
ALR590-60    60 inch $40.60

Transparent blades for easy reading with non-skid pads. Sturdy aluminum links provide the right amount of tension for drawing a line parallel to another line or reference point. Metal parts are non-magnetic and corrosion resistant. Opens to 3″ spacing between blades.  Available in 12″, 15″ and 18″ lengths.