The X-ACTO Wood Guillotine Paper Cutter features an oversized, textured grip for the ultimate feeling of control and comfort. Even over periods of extended use, your hand and arm will remain comfortable. Our Wood Guillotine Paper Cutter also features sturdy rubber feet, ensuring stability over multiple work surfaces.
X-ACTO style paper cutters are an essential tool for hobbyists, craft artists, photographers or anyone needing to make multiple precision cuts for a perfectly straight edge every time. All of our guillotine paper trimmers are designed for precision and performance guaranteeing you will be able to cut through multiple sheets of a wide variety of different materials:
All paper types
Photographs and film
Our guillotine paper cutters are engineered with only the finest quality materials to produce safe and accurate results every time. X-ACTO hardened steel blades feature our Perpetual Edge self-sharpening system, guaranteeing a perfect edge with every cut. Additionally, all of our guillotine paper cutters feature multi-level safety features to ensure your fingers stay away from the cutting blades.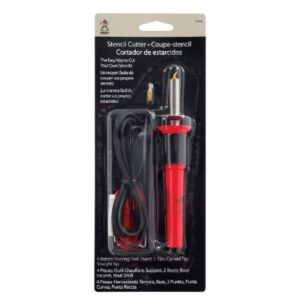 Cut custom stencils quickly and easily! Just trace along design lines while the tool burns through the stencil. Makes small circles, fine lines and intricate patterns better than scissors. Quick-heating with hook tip for easy grip; includes stand.

Cut Lengths:

13 3/8″ – 18″

Sheet Capacity:

Up to 15 sheets

Blade Type:

Lever Style
Protective guard keeps fingers safe
Innovative springs keep blade in place
Safety is a top priority when Dahle designs its paper cutters and this Professional Series of Guillotines is no exception. A protective guard was added that also doubles as a paper clamp. This guard not only protects your fingers from being in the wrong place, but when it's depressed, will securely hold your work in place. The blade on this guillotine also features an innovative spring system that will hold the blade at any angle and prevent it from flying up or falling down accidentally.
Dahle's Professional Guillotines are designed and engineered in Germany for heavier applications. They feature a ground self-sharpening blade made of German Solingen steel. This blade is self-sharpening and maintains a perfectly honed edge every time it is used. It offers a cutting capacity of up to 15 sheets of paper at a time and is the perfect tool for cutting paper, card stock, and illustration paper.
Dahle Professional Guillotines are the preferred choice of professional photographers, print shops and graphic design agencies.